JXZ type combined low dew point dryer
Product Detail
Product Tags
Combined low dew point dryer (short for: combined dryer) is a low dew point drying equipment integrating freezing dryer and adsorption dryer.The refrigerated dryer has the advantages of no gas loss and low energy consumption, but it has the limitation of dew point temperature.The dryer has the advantage of low dew point, but the disadvantage of large loss of recycled gas.The combined low dew point dryer developed by our company integrates the respective advantages of cold drying machine and suction drying machine, maximizes the advantages of both through reasonable pipeline connection and capacity collocation, and achieves the highest cost performance.
Combined dryers are mainly composed of frozen dryers and adsorption dryers, and sometimes attached with corresponding filtration, dust removal, oil removal and other devices, so that the dryer can adapt to more complex gas environment.
Technical characteristics
● Part of the cold drying machine using refrigeration dehumidification, air cyclone separation process.The drying machine adopts pressure swing adsorption, temperature change adsorption and other processes.If there are corresponding filtration, dust removal, oil removal and other devices, there are direct interception, inertial collision, gravity settlement and other filtering mechanisms.
● Stable operation, reliable work, long-term unguarded operation.
● The regenerative heat source (the part of the drying machine is slightly heated) adopts electric heating, and the regenerative steps adopt heating + blowing cooling.
● Using its own dry air as a renewable gas source, low gas consumption.
● Long cycle switching.
● Automatic operation, unattended operation.
● Reasonable configuration of refrigeration system components, low failure rate.
● Adopt electronic intelligent or floating ball type automatic sewage device to realize automatic sewage function.
● Simple process flow, low failure rate, low investment cost.
● Easy to operate and maintain.
● Simple electrical automation operation, with main operating parameters indication, and the necessary fault alarm.
● Machine factory, no indoor base installation.
● Convenient pipeline pairing and installation.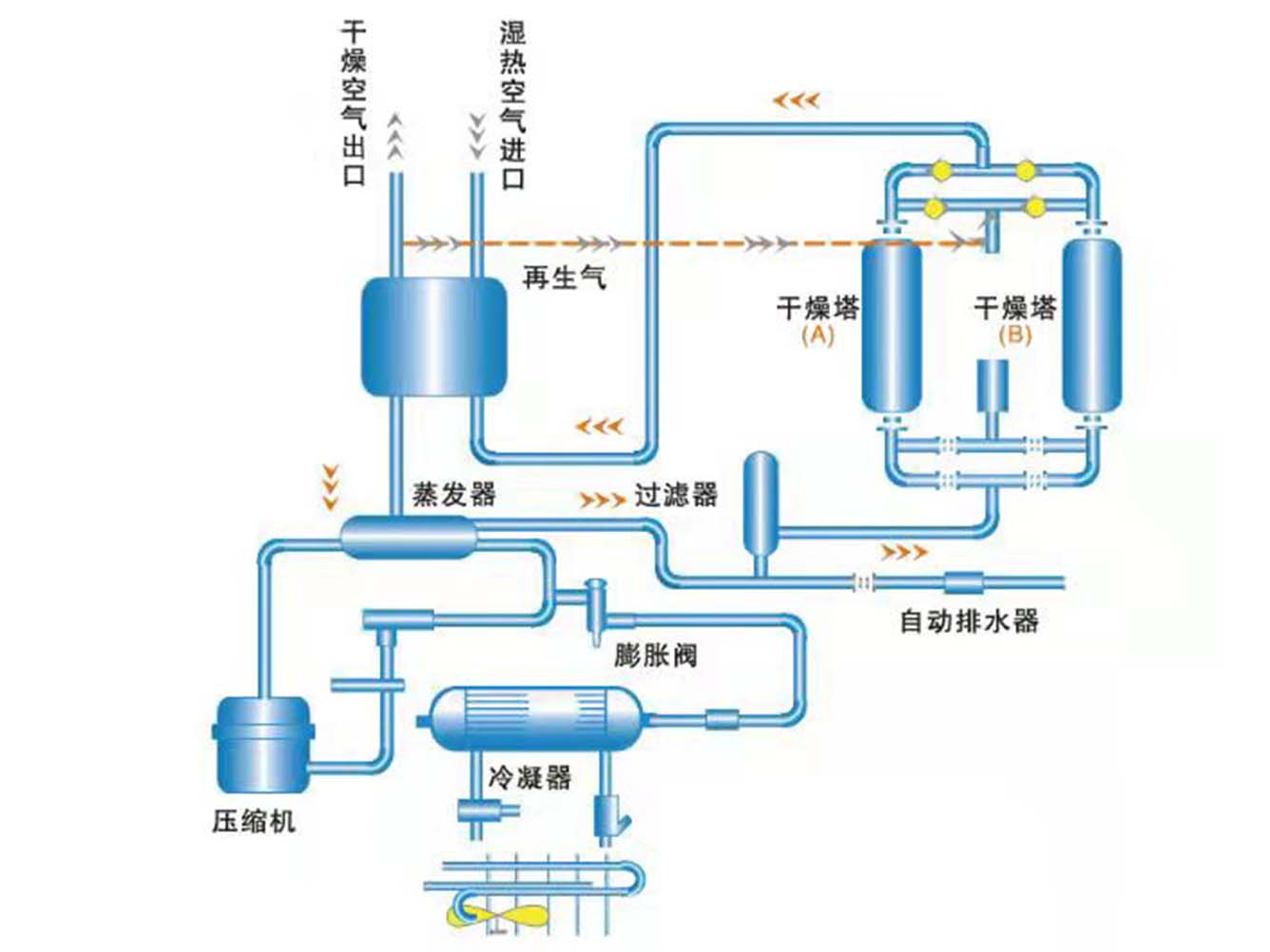 Air handling capacity

1~Nm3/min

Working pressure

0.6 ~ 1.0mpa (7.0~ 3.0mpa products can be provided according to user requirements)

Air inlet temperature

normal temperature type: ≤45℃(Min 5℃);

high temperature type:≤80℃(Min 5℃)

Cooling mode

air cooled/water cooled

Dew point of finished product

-40℃~-70℃(atmospheric dew point)

Inlet and outlet air pressure drop

≤ 0.03mpa

Switching time

120min(adjustable)(slight heat) 300~600s(adjustable)(no heat)

Regenerated gas consumption

3~ 6% rated capacity

Regeneration method

micro thermal regeneration/non thermal regeneration/other

Power source

AC 380V/3P/50Hz(ZCD-15 and above);AC 220V/1P/50Hz(ZCD-12 and below)

Ambient temperature

≤42℃
---
Previous:
JXG type blast regenerative air dryer
---
Write your message here and send it to us