JXY type waste heat regeneration dryer
Product Detail
Product Tags
Waste heat regenerative dryer is a new type adsorption dryer, neither belongs to the regenerative heat, also don't belong to no heat regenerative, and belongs to the temperature swing adsorption, is the use of high temperature air compressor exhaust heat regeneration desiccant, adsorbent is completely regenerate, even in low pressure 0.35 Mpa working condition of use, as long as the compressor load rate of not less than 70%, The drying device can work reliably, so it can make full use of its own energy and has energy-saving effect.The electric heater of the micro-heat regenerative dryer is cancelled. At the same time, the waste heat regenerative compressed air dryer is a new type of energy-saving compressed air drying equipment because there is no gas consumption during heating and regeneration.
| | |
| --- | --- |
| Working pressure |  1.3-1.0mpa |
| Inlet temperature |  ≥100℃ |
| Finished gas atmospheric pressure dew point |  ≤-40℃ (alumina) ≤-52℃(molecular sieve) |
| Control mode |  microcomputer automatic control |
| Working cycle |  6-8h |
| Regenerated steam consumption |  ≤2% |
Technical characteristics
1. using the world's advanced microcomputer controller, can realize communication and linkage control, excellent performance.
2. choose high quality butterfly valve, switching quickly, accurate and reliable action.
3. the use of gas diffusion device, uniform air distribution in the tower, unique filling method, long service life of the adsorbent.
4. The regeneration process uses the waste heat of air compressor, and the regeneration energy consumption is low.
5. the overall layout is reasonable, compact structure, simple installation, convenient use and maintenance.
Waste heat regeneration air dryer technical parameters table
Model

Traffic

Nm3/min

Inlet and outlet diameter

mm

Total weight

kg

Overall dimensions

L * W * H mm

Power supply/power

 

JXY-100/8

100

150

7400

3850 * 2260 * 3200

220V/50Hz

100 w or less

JXY-150/8

150

200

10700

4400 * 2600 * 3500

 

JXY-200/8

200

200

13400

4900 * 2700 * 3800

 

JXY-250/8

250

200

17050

5400 * 3100 * 3820

 

JXY-300/8

300

250

19400

5900 * 3200 * 3900

 

JXY-350/8

350

250

22000

6200 * 3200 * 4360

 

JXY-400/8

400

250

25500

7100 * 2900 * 4300

 

JXY-600/8

600

350

36000

8400 * 3300 * 4760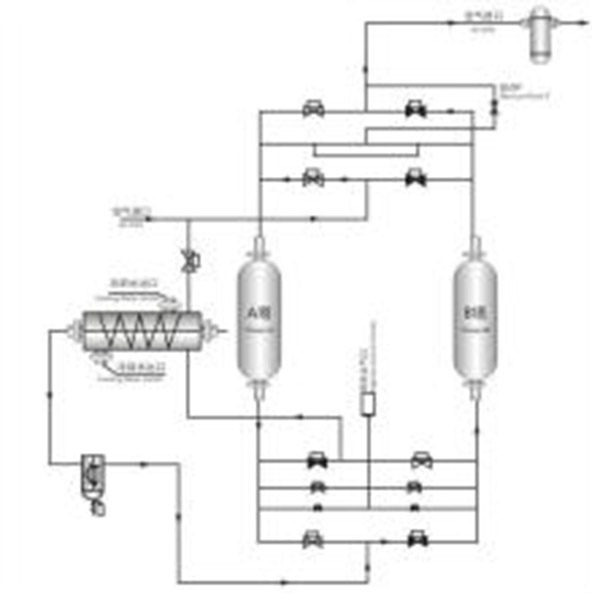 ---
Previous:
JXL refrigerated compressed air dryer
---
Write your message here and send it to us